I Do It For Applause
[Release Date: August 12, 2016] – Order
The Real Neil
[Released 2013] "The Real Neil" is Neil's first acoustic album; piano and voice, the purest form of the song. It is a collection of new songs with a few Sedaka classics. As a Bonus Track, "The Real Neil" debuts Neil's first piano concerto, "Manhattan Intermezzo", which was recorded in London with the Philharmonia Orchestra.
(Hover over CD cover and listen to clips of each song)
Track Listing:
1. Intro
2. Beginning to Breathe Again
3. You'll Be There
4. You
5. Breaking Up is Hard to Do
6. Laughter in the Rain
7. Amarillo
8. Broken Street of Dreams)
9. Heart of Stone
10. It's Hard to Say Goodbye
11. Queen of Hearts
12. Everybody Knows
13. Captured By Your Love
14. Runaway Lover
15. Mi Amor
16. Sweet Music
17. BONUS TRACK – Manhattan Intermezzo

The Music Of My Life
[Released 2010] Neil Sedaka returns with "The Music of My Life", with 11 brand new Sedaka songs, featuring Neil's first ever Salsa number, "Do You Remember?" produced by Grammy Award Winner David Foster.
(Hover over CD cover and listen to clips of each song)
Track Listing:
1. Do You Remember?
2. A Fool In Love
3. Living in a Fantasy
4. Right or Wrong
5. I Got To Believe In Me Again
6. The Music of My Life
7. I Keep Searching
8. Waiting
9. Won't You Share this Dream of Mine
10. How Can I Change Your Mind
11. Bringing Me Back to Life
12. You

Waking Up Is Hard To Do
[Released 2009] Waking Up is Hard to Do is a collection of classic Neil Sedaka hits that have been reinvented as Children's songs.
(Hover over CD cover and listen to clips of each song)
Track Listing:
1) Waking Up Is Hard To Do
2) Dinosaur Pet
3) Where The Toys Are
4) Lunch Will Keep Us Together
5) Happy Birthday Number Three
6) Laughter In The Rain
7) Rubber Duckie
8) Is This The Way To Cross The Street
9) Little Devil
10) I Go Ape
11) Baby's First Christmas Lullabye

The Miracle of Christmas
[Released 2008] Neil Sedaka's debut holiday album is a two-disc set comprised of 22 songs. The first CD includes 12 original songs, including "A Lonely Christmas in New York" and the novelty Christmas song "What a Lousy, Rotten Christmas," while the second includes 10 holiday favorites.
(Hover over CD cover and listen to clips of each song)
Track Listing:
CD 1
1) "A Lonely Christmas In New York" (Neil Sedaka)
2) "A Christmas Prayer" (Neil Sedaka)
3) "A Christmas Miracle" (Neil & Dara Sedaka)
4) "Love Is Spreading Over The World" (Neil Sedaka & Howard Greenfield)
5) "Baby's First Christmas Lullaby" (Neil Sedaka)
6) "Happy New Year Baby" (Neil Sedaka & Howard Greenfield)
7) "Christmas 'Round The World" (Neil Sedaka)
8) "Razzle Dazzle Christmas" (Neil Sedaka)
9) "What A Lousy, Rotten Christmas" (Neil Sedaka)
10) "Christmas Time is Just Not The Same Without You" (Neil Sedaka)
11) "Where Is God?" (Neil Sedaka)
12) "A Christmas Melody" (Neil Sedaka, Denise Rich, & Jodi Marr)
CD 2
1) "Let it Snow, Let it Snow, Let it Snow" (Sammy Cahn/Jule Styne)
2) "Silent Night" (Josef Mohr/Franz Gruber)
3) "Winter Wonderland" (Felix Bernard/Richard B. Smith)
4) "O Holy Night" (Adolphe Adam)
5) "White Christmas" (Irving Berlin)
6) "What Child Is This?" (Traditional)
7) "Have Yourself A Merry Little Christmas" (Ralph Blane/Hugh Martin)
8) "The First Noel" (Traditional)
9) "The Christmas Song" (Melvin H. Torme/Robert Wells)
10) "O Come All Ye Faithful" (John F. Wade)

Brighton Beach Memories: Neil Sedaka Sings Yiddish
[Released 2003] Songs in Yiddish, and inspired by his roots.
(Hover over CD cover and listen to clips of each song)
Track Listing:
1) Vi Ahin Zol Ich Geyn
2) Shein Vi Di L'Vone
3) My Yiddishe Mamme
4) Eishes Chayil
5) Bei Mir Bist Du Shein
6) Mein Shtetele Belz
7) Tumbalalaika
8) Sunrise, Sunset
9) Ochichorniya (Dark Eyes)
10) Exodus (Main Theme from Exodus)
11) Ich Hob Dich Tzufil Lieb
12) Anniversary Song
13) Tzena Tzena Tzena

Classically Sedaka
[Released 1996] Famous classical melodies with original lyrics written by Neil.
(Hover over CD cover and listen to clips of each song)
Track Listing:
1) Prologue
2) A Moscow Night
3) Turning Back the Hands Of Time
4) The Keeper Of My Heart
5) Never Ending Serenade
6) Steel Blue Eyes
7) Santiago
8) I'm Always Chasing Rainbows
9) There Is A Place
10) Clair De Lune
11) I'll Sing You A Song
12) Honey Of My Life
13) As Gentle As A Summer's Day
14) Goodnight My Love, Goodnight

By Popular Demand
[Released 1996] A compilation of Neil Sedaka hits, personally put together by Neil. These are his favorites, and are among the most requested songs.
(Hover over CD cover and listen to clips of each song)
Track Listing:
1) Laughter in the Rain
2) Happy Birthday Sweet Sixteen
3) Breaking Up is Hard to Do (original version)
4) Breaking Up is Hard to Do (slow version)
5) Bad Blood(background vocals by Elton John)
6) Solitaire
7) The Hungry Years
8) Love Will Keep Us Together
9) Calendar Girl
10) Little Devil
11) Next Door to An Angel
12) Oh! Carol
13) Run Samson Run
14) The Diary
15) Stupid Cupid
16) Stairway to Heaven
17) The Miracle Song
18) My Son and I
19) Should've Never Let You Go (duet with Dara Sedaka)

Also
Book: Waking Up Is Hard To Do
It's sure to be a happy day with this bright and sunny picture book and CD with new lyrics by Neil Sedaka. Includes a 3-song CD, with two brand new songs written for the book.

Book: Dinosaur Pet
Parents and grandparents who remember the hit song "Calendar Girl" are sure to smile when they hear Neil's latest twist—the children's picture book and CD entitled "Dinosaur Pet"; performed by Neil Sedaka, with children's lyrics by Marc Sedaka, and illustrations by Tim Bowers. Marc creates new kid-friendly lyrics for the classic song, making this a whimsical, colorful picture book. Also included on the CD are two brand new children's songs, "She Moved Away" and "The Tooth Fairy," written and recorded by Neil especially for this book. A New York Times Best Seller.

DVD: The Show Goes On—Live At Royal Albert Hall
Filmed on London's Royal Albert Hall on April 7, 2006, this presents Neil Sedaka entrancing his audience his characterisitic humor and charm, while turning in great performances of his best loved hits, new songs, and his talents as a classical pianist.

Book: "Neil Sedaka: Rock 'N Roll' Survivor" by Rich Podolsky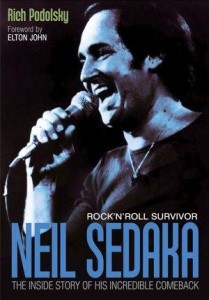 "From 1958 to 1963, Neil Sedaka sold 25 million records – more than anyone except Elvis Presley. He thought he could do no wrong. A year later, however, he was all but off the charts, swept away by The Beatles and the British Invasion. The deejays stopped playing his records, and the public stopped buying them.
For 12 agonizing years, Sedaka battled to get back on the charts – back to respectability. Then, one magical night, he performed at the Royal Albert Hall in London, and his new songs were greeted with thunderous applause. Soon, Elton John, the biggest rock'n'roll star of the decade, was offering to sign Neil to his new label, Rocket Records. Then, in Janaury 1975, 'Laughter in the Rain' hit number one on the Billboard Hot 100, sealing one of the most amazing comebacks in music history.
This vivid and authoritative book, written with full access to Sedaka and those closest to him, tells the absorbing story of how he overcame one obstacle after another on his way back to the top. With a foreword by Elton John and an afterword by songwriter Phil Cody, this is the story of the ultimate rock 'n' roll survivor."